Family vacations can be spent doing fun activities together and playing card games is one of the best options wherein you can play several different games with a pack of cards. You could also play this game with physical cards or online with individual devices. You could begin with easy ones or go with complex games that don't end too soon as you can enjoy many hours of entertainment and spend quality time with your family. At 52pickup.net, you will be able to find out how to play and a lot of card game rules.
It's a fun game that you can play with your partner or alone. The game is easy, and the player is required to make the sequence of cards in descending order in alternating colors. There are four piles to complete, and it is fun to play this game as there is no complexity, and you can enjoy a drink or conversation while playing it and not be distracted. The player who can finish arranging all four sets as quickly as possible will be the winner. You can play this game with two decks and create eight piles to get the game to last longer. At solitaired.com you can also play free online solitaire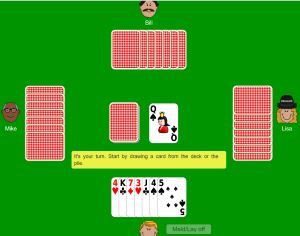 Here your player has to group cards in sequences and sets. The player needs to score 500 points—a set of a minimum of three cards of the same rank or the same suit sequence. In the game, however, the player continues to play in rounds until they are left with no cards, and the player who still has cards with them will have a deducted score depending on the number of cards remaining in hand. As a player, your strategy is to make the round last as long as possible and get more cards to make your sequences and sets score more points. Sometimes this strategy may not work out depending on the set of cards you have at hand. Employ the best technique to win. It's a fun and entertaining game as you try to get a win over your family members.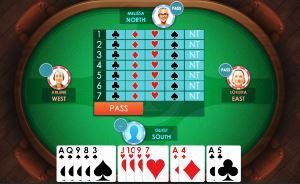 It is a card game with four players and two people forming a team, each called north-south and east-west, to play bridge together. The two teams are also called pairs. The pair that plays the hand, whether it is a trump suit one or without the trump, is called the declarer, and the partner of the declarer is called the dummy, who will have to play hand face-up on the table after the bidding takes place. The player on the declarer's left side makes the opening lead. In contrast, the other pair will be the defenders of the hand. The Bridge card game is played in two phases. One consists of the bidding and the card play. This game is complex; you will need to understand a bit more, and tutorials are available to learn more about playing the bridge. Eventually, when you understand it well, you will have fun playing it.
Casino card games are lots of fun. These can be played in the confines of your home while traveling or in-between breaks. You wouldn't want to shy away from such games where you could play alone or a lot of other people. There are games and wagering options of all kinds.
Picking the crowd favorites
There are different variations of poker games available to play. You can play with your cards or online. Poker and blackjack games need dealers; you can make anyone family member become the dealer, and the rest of you can play. If you all want to play, you can choose to go to a real casino, play online or like I do in Canada using casino apps. (Age above 18 only) Some of them are –
texas hold'em
Omaha High
Omaha Hi/Lo
5 Card Omaha and 5 Card Omaha Hi/Lo
Courchevel and Courchevel Hi/Lo
Seven Card Stud
Seven Card Stud Hi/Lo
Razz (7 Card Stud Low)
Horse & 8-Game Mix (Mixed games)
Five Card Draw
2-7 Triple Draw & 2-7 Single Draw
Badugi
Basics of playing poker
Poker itself is the most played game. Here we shall elaborate on Texas Hold'em as it is the most popular form of poker player worldwide. Since these games are played with several players and many variations, a detailed explanation of playing the game is needed to proceed and attempt to play it. Hence tips and tricks are also part of the explanation. Once you understand the nuances, you may even get addicted, as most poker and blackjack players. These are the most played card games in the world.
To begin, you are dealt with two cards known as the hole cards. The player is supposed to check, bet, or fold the cards. After betting, three cards are dealt with the face open, known as the flop. If you want to continue another round of betting, a fourth card is placed open alongside the other three, called the turn. You could bet for a final round and place the final fifth card open, called the river. The best hand with the highest-ranking wins. The ranking is based on the following
Royal flush- this is the best hand to have. It consists of A, K, Q, J, 10
Straight flush- the consecutive number of the same suit, eg, 4,5,6,7,8
Four of a kind-here, four cards are of the same number, and the fifth card could be the different one. Eg, Four 3s and a 9 and also known as quads.
A full house is 3 of one number and 2 of another number. Eg, Three 9s and two Js.
Flush needs to have all five cards in the same suit but not consecutively, eg, 5,9,7,2, and Q from spades.
Straight- the cards are in a sequence but aren't of the same suit. Eg, A spade, 2 hearts, 3 diamonds, 4 hearts, 5 clubs, and this is the lowest-ranked straight, known as the wheel. If it is A, K, Q, J,10 of different suits, it's a Broadway in poker and is the highest hand.
Three of a kind- you have three of a kind, eg, Three Js and 2 and 7 and they are called trips.
Two pairs- here, you have two pairs of the same cards and the fifth one being different. Eg, Two As and two 10s and 5. Assembly, if both the player and opponent have the same two pairs, then the fifth odd card is the decider, also known as the kicker in poker.
Here, you have only one pair, two Qs and 3,9, and 7. If the opponent and the player have the same pair and other cards also match, then it's a tie, and they split the winning amount.
High card- the highest card value is seen in the play of hands.
The most popular is Texas No Limits Hold'em. We shall see how poker is played in this version. It's also called the Cadillac of poker. You try to get the best hand on your two and five community cards here. Mastering this game is an uphill task, but learning it is much easier.
Black Jack
Blackjack is popular in casinos, but it's also hit popularity charts in the online world. Blackjack, also known as 21 is a fun and exciting game providing some of the best odds in the house.
It's an easy game, and the luck factor plays a lot. The player has to get a total of 21 or less than that but not more, and he wins. If the total is more, he goes bust. The layers are also allowed to play more hands against the dealer, ensuring that the total is not more than 21.
rules to play
In normal circumstances the game gets played with six decks of cards and reshuffled after each hand. This is not in the case of live blackjack in a casino where the cards are continuously pulled out of the shoe and not shuffled after each hand.
The game can be split into three hands, and the player can surrender any first two cards. He has the opportunity to split the aces and receive only a single card. It must be noted that there is no re-splitting of aces.
Winning and losing in blackjack
The player wins if the total of cards he holds does not exceed 21 or is 21 and the dealer has a total less than you. The player aims to get a total of 21 or less when the dealer's total exceeds 21.
An ace and 10 in total card value will be finished blackjack or natural. If you get a blackjack at the very beginning, you will get an edge of 3 to 2 provided the dealer also does not have one. If this happens, it's a tie and also known as the push. A winning score achieved by a split is paid at 1 to 1.
Several card games can be part of your vacation activities. You can play them with only your family members or even join other people physically or online and have fun all the same. Some of the most interesting card game selections are mentioned above, you can choose to try them as they are both complex and easy.